Over the last few decades, digital technologies have infiltrated practically every layer of the modern work environment.
Given the relentless rate of innovation and the current growth of remote work, this digital evolution of the workplace is only speeding up. It's no stretch to assume how we work today will look drastically different five years from now. While this ongoing transformation is unstoppable and necessary for future growth, it also comes at a cost. If you ask analyst, author, and futurist, Brian Solis, there's a dark side to the digital revolution.
"It's killing us silently," he said. "Every time you get a notification, you break your rhythm of work and rhythm of flow. It takes you about 23 minutes or so to get back into the groove. On average, most people receive about 200 notifications a day. Not all of those are work-related, but what we're talking about is an incredible loss in productivity. These distractions are robbing people of creative or deep work time."
With digital technologies sure to continue transforming the way work is carried out, workplace design has a big part to play in mitigating the distractions that come with it.
Acknowledging the Addiction
Solis first became aware of the impact his digital conditioning was having on his work life a couple of years ago when he sat down to write his eighth book.
"I was wondering what had happened to my focus and my creativity and had just chalked it up to writer's block," he said.
Mounting frustration prompted him to undertake a research project "on the effects of digital transformation on our behaviors and lives," which lead to an entire book on the topic, Lifescale.
"I had identified the design techniques of these apps and devices to grab and hold our attention. So many of us feel unproductive or unmotivated, or that our morale is low, but we haven't fully connected the dots to our digital diets, which is the root of our problems."
"Checking boxes to get the job done. That has become the new accomplishment."
Thanks to a resulting "tech addiction" cultivated both in our private lives and in the way we work, Solis explained our days have transformed into a process of merely switching from task to task.
"You're not really multitasking. We've gone from completing a job in the best possible way when we're engaged, to checking boxes to get the job done. That has become the new accomplishment," Solis said.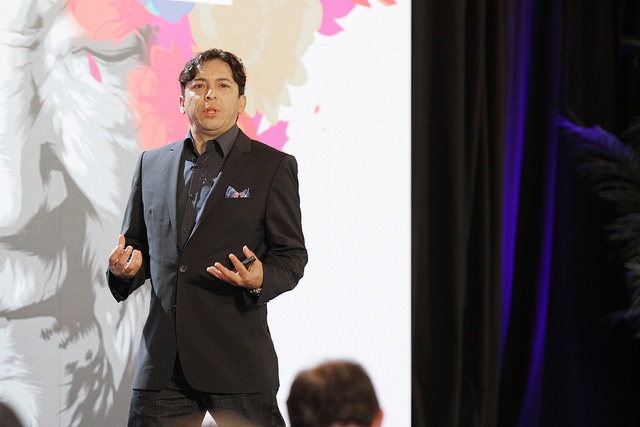 Solis speaking at an influence group event in 2018
Failing to regularly access a state of deep work not only kills productivity but also wears away our ability to focus. Over time, the caliber of the work we produce declines. Solis also believes the phenomenon is fueling a worldwide drop in employee engagement levels. He likens the shift in our behavior to the dangers of smoking and unhealthy eating.
The more elite businesses, he said, are now beginning to explore ways of counteracting the consequences of evolving work processes.
"Embracing new and disruptive technologies, migrating to the cloud, adopting mobile, re-examining customer experience, upgrading touchpoints… all of those are all important," Solis said. "But digital transformation isn't just about changing technology, it's also about updating mindset and perspectives."
Translating Vision Into Action
At first glance, the fact that a company like Headspace is adapting its workplace to minimize distractions and boost productivity seems too obvious to mention… Being a company that promotes health and wellness through a meditation app, after all, endows it with an understandably unique approach.
"Digital transformation isn't just about changing technology, it's also about updating mindset and perspectives."
Every morning at 10 am, as many as 50 percent of employees at the company's Los Angeles HQ voluntarily come together for a group meditation session. Staff also receive reminders throughout the day to take a break from their screens and meetings to use one of the meditation pods dotted throughout the building. On top of that, the company is installing an outdoor meditation garden — complete with a water feature — as part of an imminent upgrade of the facility.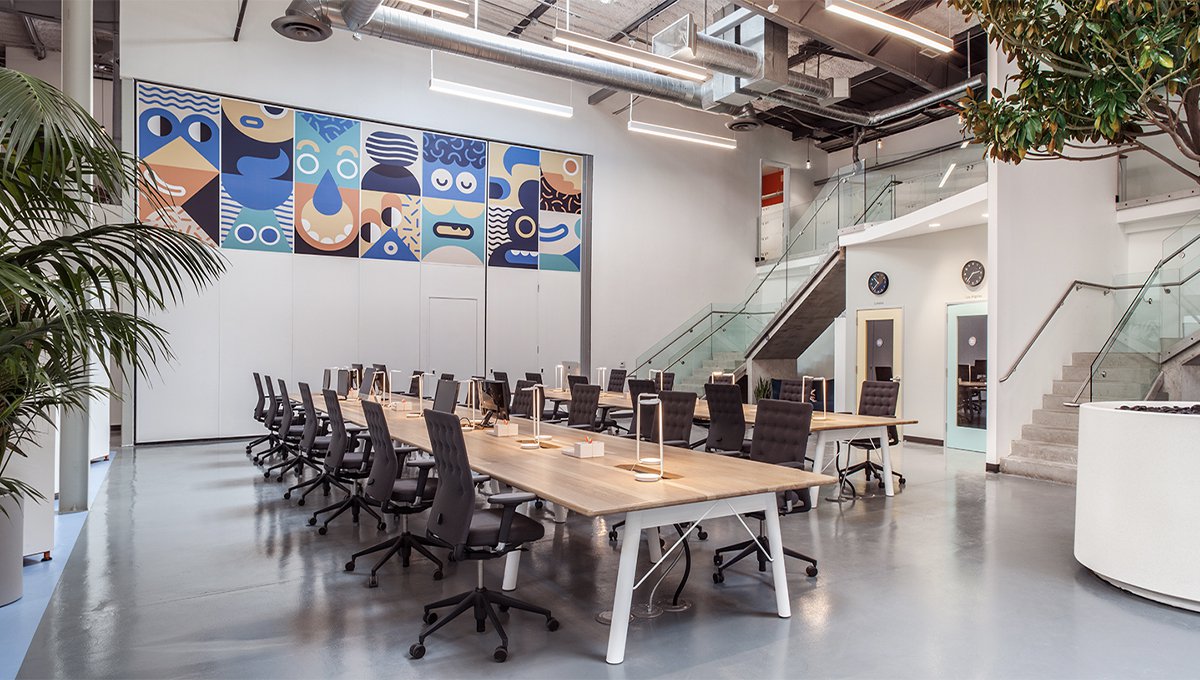 Headspace HQ
However, while Headspace may be a wellness company, it's undeniably just as much a tech company. Existing at the forefront of an ongoing digital evolution, Director of Workplace Experience, Tim Cowell, explained Headspace is just as prone to the ill effects of a digital workflow as any other organization.
"Our work environment is one where there's a lot of heads down work. About half of our team are software and tech engineers," he said.
For Headspace, optimizing workspaces to counteract digital distraction goes beyond its mission to "improve the health and happiness of the world."
"The largest expenditure of any company is its employee base. If your employees aren't happy at work, or they're chronically out of the office because they're not healthy, as well as stressed out and over-anxious because of work and screen time, that's not good for the company," Cowell said.
Designing for Greater Focus
As is the case with an increasing number of modern workplaces, the Headspace HQ is a flexible work environment. Currently, each employee has an assigned workstation in an open plan layout, and can also work from a large variety of "small nooks, phone booths, and collaborative zones." There's also a flexible work policy in place, allowing staff to operate out of the office. Cowell said at any given time of day, only half the assigned desks are occupied, while amenities like phone booths are occupied around the clock.
"We all work differently. By having a flexible work environment, we're trying to provide lots of options for many worker journeys. This helps them discover what's best for them," Cowell said. "At the same time, we examine what's successful and what's not successful."
To facilitate this approach, fixture and equipment conformity is key. All workstations are built to the same ergonomic requirements, equipped with a computer monitor arm and one-point connectivity for laptops, limiting time spent troubleshooting hardware issues.
Providing a selection of different work environments also encourages workers to take regular breaks and make conscious scene changes — important for productivity levels, with research suggesting we're only capable of sustaining peak concentration levels for 45 minutes at a time.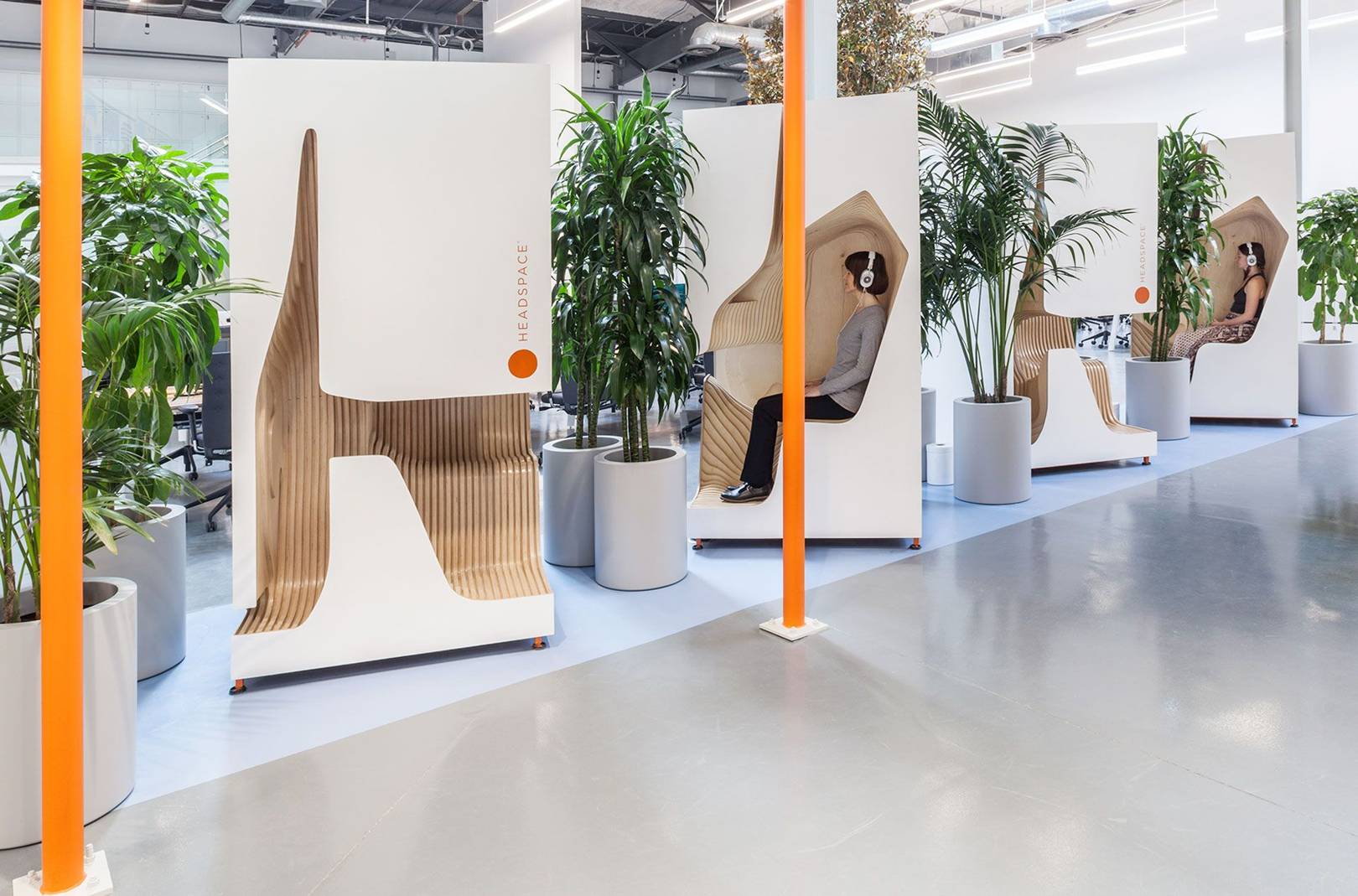 Meditation pods at Headspace HQ
Apart from this, Cowell said he spends a lot of time factoring in access to natural light and proper air exchange, as well as ensuring there are as many biophilic design aspects crammed into the HQ as possible. Incorporating subtle cognitive breaks into a space can help root employees in their surroundings, and hopefully, keep them immersed in the work they're tackling.
"Things like natural lighting are extremely important for people designing space to consider, particularly with an open environment," Cowell said. "We're in a warehouse-type building with lots of skylights. We get northern exposure from windows that go up about 25 feet. This is always a popular space because you can look up and see the blue sky and clouds and seagulls."
Embracing a Beta Mindset
Headspace's approach to workspace design is one that's tempered with constant trial and error, treating each idea, initiative, and expansion as an experiment.
The latest upgrade to the HQ, expected to be completed early next year, is an example.
Cowell refers to the extension as a "beta testing site," collecting as much employee input via surveys throughout the process and adjusting accordingly. They also have a feedback wall, where staff can leave post-it note responses to questions the company poses on a weekly basis.
It's part of a receptive attitude to change that leadership has attempted to ingrain at every level of the organization.
"We try to do what we call a 'Headspace Shuffle' every six to eight months, moving team members from their current location to a new desk, often in another part of the campus," Cowell explained. "Each zone of our campus has a different look and feel. It seems to be a pretty good way for us to encourage collaboration, as well as create and strengthen relationships across the company."
Moving forward, Cowell said adopting more of a modular mindset will be vital to keep ahead of technology's inevitable advance, and the challenges that accompany it.
"The thing I worry about most is not knowing what our needs will be three months from now," Cowell said. "Tech can drive change quicker than it ever has before. When you factor in that an organization is growing, being able to pivot is extremely important. By simplifying our offices, being able to modify our equipment and furniture and always designing around flexibility, that gives me the best leg up to be prepared."
Purpose = Productivity + Engagement
However, perhaps the biggest advantage working in Headspace's favor when it comes to guarding against distraction and boosting productivity is its mission-driven nature.
"Every day we improve other people's lives, helping them to be a healthier and happier person. What we're trying to do (as a workplace development team) is make a healthier and happier employee. By doing that, we create loyalty and a team absolutely driven to help do the best we can for our clients, partners and members."
While striving for a healthier culture should definitely be high up on a company's to-do list, workspace innovators, in particular, have an opportunity to reimagine new ecosystems that foster a sense of fulfillment and engagement that comes with a productive day at work.
"It's a very exciting time for the workplace design community," Cowell said. "What are the things we need to do and design into our spaces that are open to technology's rapid growth and change while also remaining close to our culture and our people?"
---
This topic and much more will be explored at WorkSpaces happening October 27-29 in Palm Springs, CA. Reserve your spot now.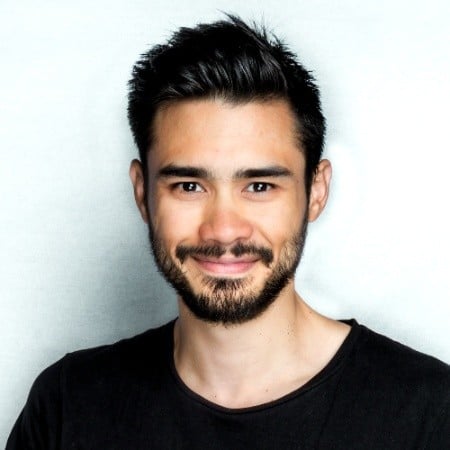 Posted by
Content + event producer with an innate, insatiable curiosity. Fixated on retail, restaurant, and hospitality design.
Join us at WorkSpaces!
The retreat for corporate real estate and workplace innovators.
October 23-25, 2022
Learn More