It's no big statement that the things people need to be successful at work change over time. But today, workers' needs can shift day-to-day, even hour-to-hour.
The best thing a workplace design team can do, then, is create environments that take the idea of adaptability to new heights. With the nature of work changing so quickly, this imperative should be in focus now, more than ever.
At his talk at WorkSpaces, Brett Hautop, Senior Director and Global Head of Design and Build at Linkedin, spoke about the different strategies that LinkedIn implements in its workplace strategy to attract top talent and ensure individuals are working to their greatest potential. With the aim of creating environments that promote creativity and innovation, the company knows it needs to find new ways of adapting. Not just for the different ways we work today, but also tomorrow.
The Experimental Imperative

The trick to successfully rolling out new design solutions to address workplace needs is to first test them out. LinkedIn's Workplace Design Laboratory in Sunnyvale, California is now in its third year of operation. The 20,000-square-foot concrete building doesn't look like much from the outside, but inside it operates as the company's design experiment lab, where LinkedIn tests out all of its new design strategies before rolling them out to the rest of the company (with more than 15,000 employees housed in more than 60 buildings worldwide).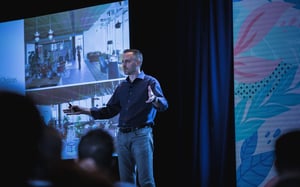 Brett Hautop at WorkSpaces'19
Here, they'll try out everything from new space configurations to different types of furniture. If a seat isn't comfortable or the flow of a space feels wrong, they experiment with it.
"Our goal is to continuously try new things," Hautop said. "We're trying to encourage people to really engage with opportunities to solve problems differently and not just fixing something if it's broken. You should be fixing it if it's broken, but you should also be looking at the root cause of what caused it to break in the first place."
Two years ago, The Workplace Design Lab launched a three-month pilot for an outdoor work environment that was one-to-one the same as the indoor office. While the physical and psychological benefits of being in nature have been well-reported, their goal was to find out if spending two hours outdoors would be a greater benefit to employees than the same amount of time spent indoors.
Hautop said that it has been challenging to quantitatively prove any benefit from this experiment, but anecdotally, based on observation and the feedback they received, people appreciated and enjoyed the opportunity to work outside when the weather was pleasant and they utilized the space a lot. This experiment will potentially lead to seasonal outdoor office pop-ups in harsher climates and possibly even permanent outdoor office space in California.
"Seating needs a unique solution for every team, in every culture and locality."
Another aspect of the workplace design the company experiments with, and needs to be adaptable to different needs for different teams, is the seating design. Team-based seating helps some teams work at their highest and best levels, but it's not for everyone. That's why seating needs a unique solution in every building, for every team, and in every culture and locality.
"That requires a lot of engagement way beyond the level typically done with our staff, but it has the potential to completely transform our opportunity to grow [these solutions] to scale," Hautop explained. "The fact is, we can't keep up with this pace of growth. There is physically not enough space. We're really trying to find ways to make more of the space that we have."
Evolving the Design
Making use of the space available also means having the ability to adapt spaces as various needs change.That might mean transitioning from an open seating environment to enclosed private spaces, or rearranging the space and adding seating to accommodate additional team members.
"The idea that a workspace can be continuously evolving over its lifecycle is where we think we have the biggest opportunity to do something that's different than what's been done in the past," Hautop said. That means going beyond the typical deliverables asked of architecture firms. "We want them to create a suite of tools that tell us
how the space can evolve over its life cycle."
"Workspace can be continuously evolving over its lifecycle"
That might include densification plans done ahead of time that identify all the different places where additional seating can be added. It could also outline different room configurations, so that a single room can have five or six different uses just by reorganizing the furniture. These things can be planned in advance so that the team operating these spaces understands and can utilize all of the different options. His team is also having conversations with different manufacturers about "furniture as a service" which would enable a lot of small changes over the life of a space, rather than one big change every decade.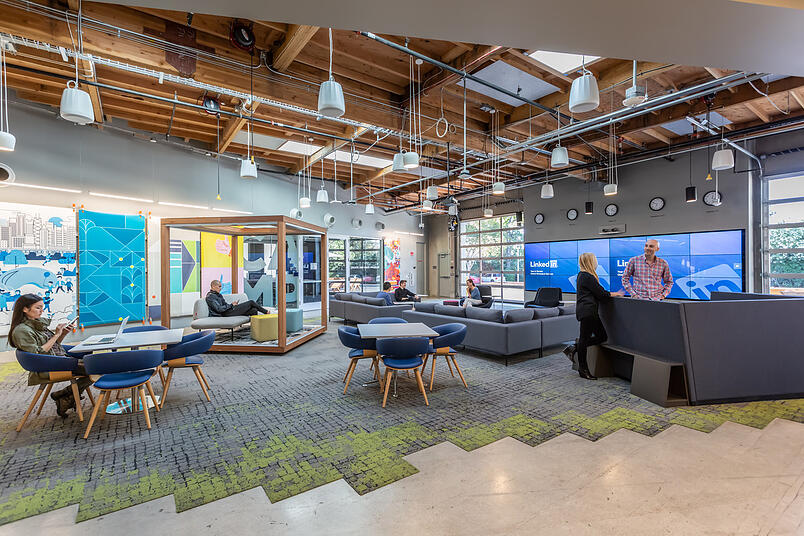 Linkedin Office
"You need to think differently about how you do furniture," he said. That could mean companies once again leasing furniture. "We want to make spaces that can allow for micro adjustments. We want the same space to be able to do multiple different things with very little action required from the teams who are using them. We want space that allows people to activate it, move it, and change it as they need to, and that's all considered in the original design and not just ad hoc change that happens after the fact." Hautop concluded his talk by saying that the offices of the future are not our fathers' offices. In fact, they've already gone way beyond that. At LinkedIn, they hope to have unique spaces in each location that are informed by user feedback and real-time data that "helps adjust and adapt those spaces as they need to be adjusted and adapted so that people are getting exactly what they need when they need it."

"The same space should be able to do different things with little action required"
Another example of evolving a space can be found in the graphic designs LinkedIn uses on walls around its workspaces. While this touch initially adds a lot of fun and vibrancy in an office, they get stale pretty quickly, Hautop explained. While changing displays every three months can be costly, the design team has in some cases incorporated AR and VR tech, allowing them to customize the visuals daily. For a simpler solution, vinyl components can be used in graphic displays, which can be peeled off and changed regularly, so that the same piece of artwork can have multiple faces over the course of its existence. "It's a whole lot less money and less effort than coming in tearing it all out and starting over every three months," Hautop said.
---
Make sure you register your interest for WorkSpaces 2021 to gain firsthand insights like these from innovators and big thinkers at the nation's leading companies.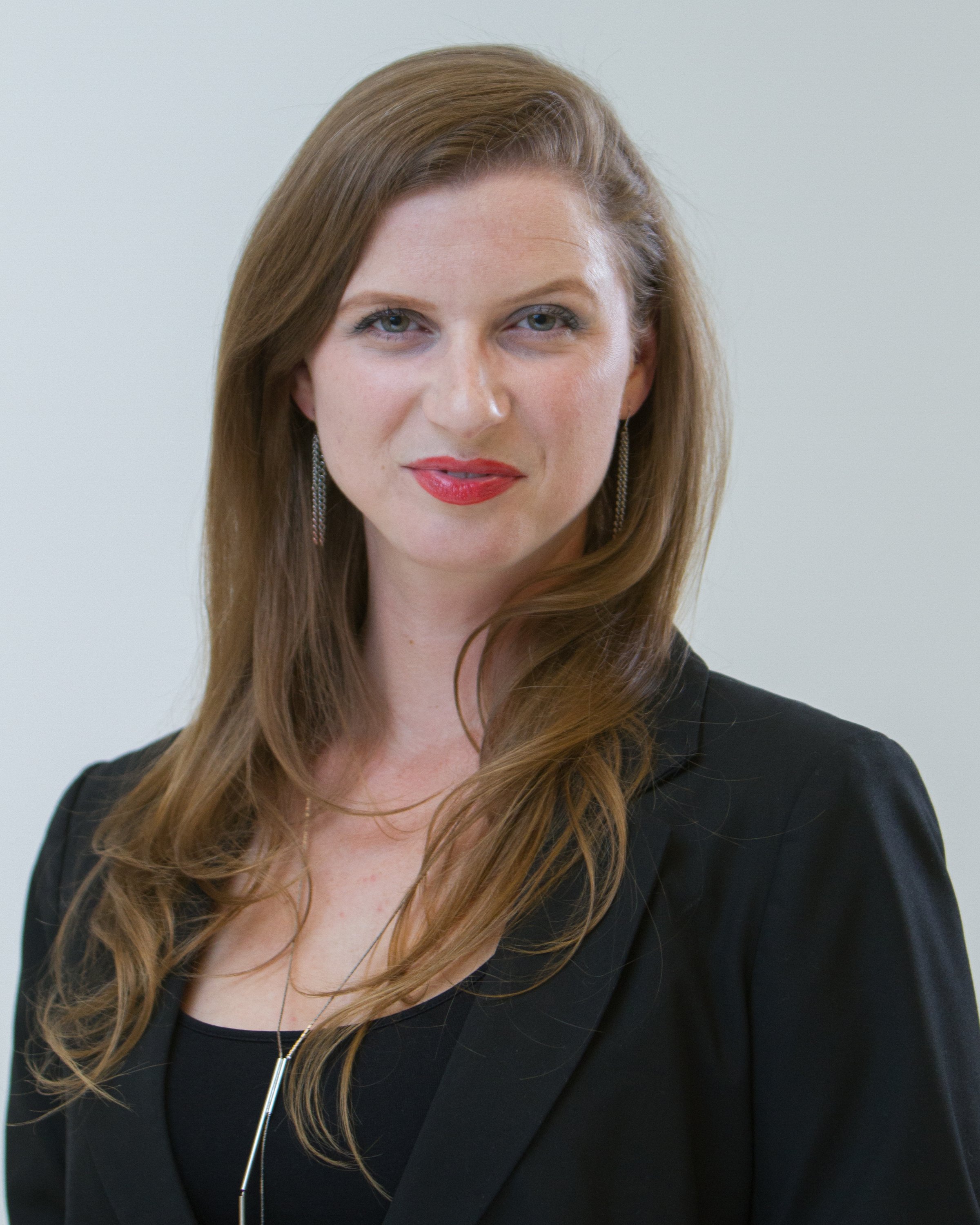 Posted by
Nicole Rupersburg is a content and conference producer for influence group focused on education healthcare and hospitality. She also is a frequent freelance writer covering food, travel, arts, culture, and what-have-you.
Join us at WorkSpaces!
The retreat for corporate real estate and workplace innovators.
November 5-7, 2023
Learn More