For Salesforce, it's not enough to unveil beautiful offices in some of the most sought-after towers in the largest cities in the world. The cloud-based software company is using its ongoing real estate transformation to make a statement about workplace culture and community.
In recent years, Salesforce has transformed its office spaces not only into a place where people come to work, but where they can involve themselves in the causes and communities they're involved in.
The organization's recent real estate boom, spearheaded by Executive Vice President of Global Real Estate, Elizabeth Pinkham, has centered on the idea that a workplace should function much like one of the company's world-renowned events: A place where people want to be, where they want to interact with each other and the public.
"Equality, having a voice, welcoming everybody, and being inclusive, these are things we try very, very hard to embed."

Pinkham detailed the organization's real estate strategy during a fireside chat at WorkSpaces, explaining this unique marriage between offices and events, and how that impacts the culture of an entire company and the communities it's located in.
"Equality, having a voice, welcoming everybody, and being inclusive, I think all of these are things we try very, very hard to embed and bring to life in our real estate," Pinkham said of Salesforce's strategy today.
The organization has tweaked, changed, and modified its workspaces to get just the right blend of community, activism, and familiar feeling as possible.
The Idea
Pinkham said the company's real estate transformation, which currently includes five million square feet of workspace, began when CEO Marc Benioff commented to her during Dreamforce that he wished the organization's buildings felt more like the signature event.
"We're an organization that wants to create a brand experience," Pinkham said of Salesforce and the event, which she had been in charge of for years. "We put all this effort into Dreamforce and people came away with a clear feeling of what Salesforce was and what they could do when they crossed the door."
But the organization's offices weren't that way. Instead, Pinkham likened them to a person who looks put together to the outside world, but whose home is a "hot mess."
"That's where it all started. The seed of this idea started to completely transform what we were doing with our millions and millions of square feet of office space," she said.
While the idea was a bit outside-the-box, Pinkham knew it had merit, and Benioff was confident she could pull off the transformation.
"We could take a lot of what we've done with events and do it inside our space. We took a deep breath and said 'let's do this,'" she said.
The Process
The organization first made a conscious decision to put a hold on all of its building projects in order to create one consistent design, Pinkham said.
"We did take a timeout, that was one of the bravest things a company could do," she said.
Pinkham and the real estate team quickly turned their attention to Salesforce's culture and identity. But they needed a little outside help.
"I started calling our customers. These are customers with iconic brands that when you walk into their space it's beautifully expressed and you know it's their culture and that's their identity," she said.
For Salesforce, achieving a similar feel meant creating a space that was flexible, activated, and had energy — just like an event.
The brands Pinkham reached out to also suggested the company take an entire floor of office space and mock up a design. And that's just what they did.
"We gutted it and started bringing everything in," she said. "It was in a quick, interactive fashion for three to four months until it felt right."
More Than A Design
While Pinkham notes that the team went through many different designs to make their space welcoming, the real cornerstone of the transformation hinges on mimicking the welcoming culture found at Dreamforce.
"It's all about family and bringing people in," she said of Salesforce's offices. "That was a big thing about rethinking this transformation. It's an amazing physical expression of our culture and values."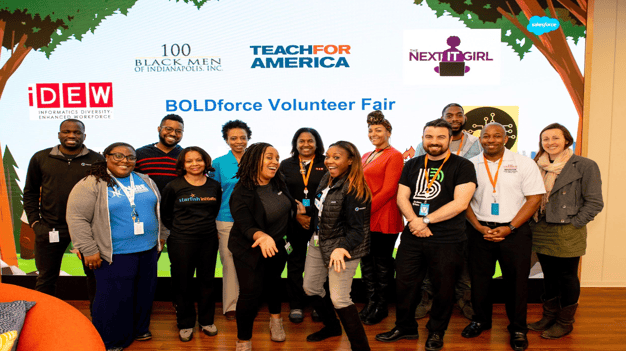 Salesforce's Ohana floors have become a place for community events
Part of this imperative was encouraging employees to get involved in causes they feel drawn to. With activism and the desire to create change strong with the younger Gen-Z employees, it made sense for Salesforce to tap into those values and begin tackling issues in the community.
Building Community
To achieve this end, Salesforce now offers several of its spaces to employees and community groups, attempting to facilitate widespread change outside its walls. Going back to its values, the organization has made a point to ensure that it's "doing well" for the city and residents where it's located.
For instance, in San Francisco, home to the organization's headquarters, Salesforce has worked to address the issue of homelessness.
Pinkham said that in 2019, when the city was considering Proposition C, a measure that would tax big companies more to create a fund to help the city's homeless population, Salesforce not only signed on in support, it offered its offices as a place for supporters to meet.
"We got the call to take a whole floor of the Salesforce Tower," Pinkham said. "We became the campaign center for this proposition. That's how committed we became. It's about being involved, about connecting to your community."
Pinkham noted that while Salesforce is always looking to do right by its community, many of the issues it supports come from employees first.
A Door to the Outside
With an eye on employee activism, Salesforce has focused on also ensuring its physical buildings are a welcome area for those looking to be the change they want to see in the world.
"I know it sounds odd, but it's true," Pinkham said of the San Francisco lobby, which includes animatronic Salesforce characters. "We have DJs in the lobbies, cupcakes, volunteer events, contests. We use these lobbies as our front door to the world. Because that's what it is."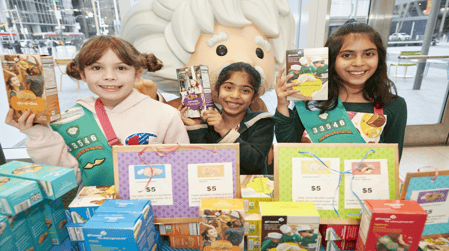 Tower lobbies have become centers for volunteering and activism
At any given time, Salesforce could be hosting a troop of Girl Scouts in the lobby or arranging for volunteers to make kits of necessities for nearby homeless shelters.
"You don't have to work here, anyone can come in and have a coffee and hang out and build a kit for the homeless," Pinkham said. "That's kind of our approach. We came up with a list of covenants for real estate. One is that we have to have a big, beautiful lobby that connects to the public sidewalks so that we can do a lot of great stuff in it."
The "Ohana" Floor
Another way Salesforce incorporated its culture and values into work spaces is through an entire "Ohana" floor dedicated to employees and family.
"Ohana is a Hawaiian word that means family, and that is really our approach," Pinkham said.
While most organizations reserve the top floor of a building for executive offices, Salesforce dedicated that space for the Ohana floor.
"We make it a floor for everybody," Pinkham said. "It's a big hospitality floor. It's very residential. It's like the city's best living room with huge sweeping views."
While Pinkham said that you might find someone's family or children visiting on any given day when walking onto the Ohana floor, the space has also been opened up to the community as a whole.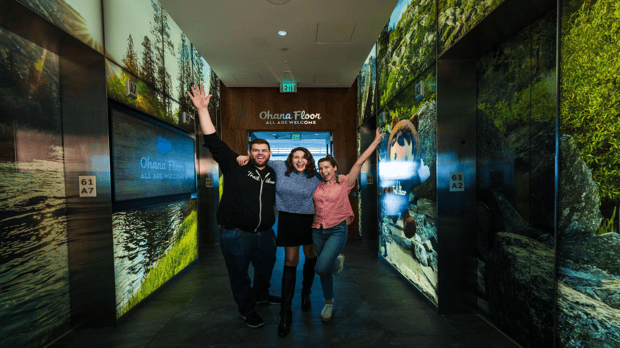 Entrance to a Salesforce Ohana floor
"What we decided to do in that same theme of repping culture is turn the space over for free to nonprofits on the weeknights and weekends," she said. "All of these spaces, when you come we want you to feel welcome."
Can It Be Replicated?
With seemingly endless capital and the benefit of time, Salesforce didn't exactly struggle to transform its workspaces. For smaller organizations lacking beefed-up budgets, such an overhaul might not be possible
When asked what she would recommend others do to make a similar change without access to the same kind of spend, Pinkham struggled to offer up a clear solution, instead insisting on perseverance.
While Salesforce isn't the "scrappy" startup it once was, Pinkham said other, younger organizations shouldn't shy away from recreating some of the company's endeavors when it comes to building culture and community.
"I think it's almost piloting something," she said when asked what baseline elements she'd implement if she moved to a new startup with budget constraints. "Piloting things in small ways lets you contain costs and build trust with your executive team."
Pinkham said there would have to be tradeoffs and plenty of patience along the way.
"It goes back to whether you're able to better connect with your customers and are you able to better connect with your employees?" she said of new programs. "If you can do those things by tweaking some programs or piloting some new things in your own workspaces, then you'll start building that success and it will start to go from there as your company gets better."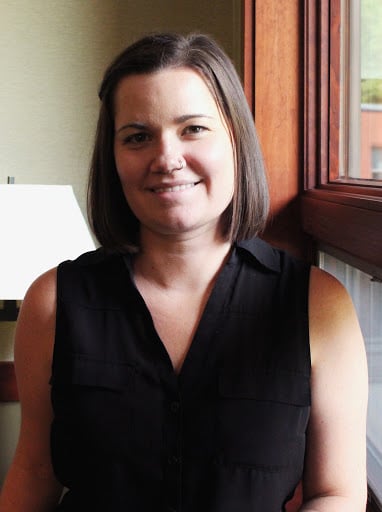 Posted by
Ashlee Kieler is an experienced multimedia journalist based in Iowa. She is passionate about telling stories about healthcare, education, retail and a smorgasbord of other topics.
Join us at WorkSpaces!
The retreat for corporate real estate and workplace innovators.
October 23-25, 2022
Learn More