Earlier this year, McDonald's acquired an entire software startup and threw millions behind another. With these investments, the company hopes to harness AI's potential in personalizing guest interactions.
They're also clear signs the fast-food giant is serious about keeping ahead of disruption, rather than succumbing to it.
Though for a brand the size and scope of McDonald's, orchestrating this kind of company-wide shift in mindset is no easy feat. It was an undertaking leadership knew would only be possible with a genuine willingness to evolve.
"As we focused more on enhancements to build digital engagement with customers, we found those technology skills didn't exist as much in our current talent pool," Director of Corporate Real Estate, Scott Phillips said. "We really had to search outside the company to supplement those skill sets."
But attracting that kind of talent was difficult for the global foodservice retailer to achieve out at its 74-acre Oak Brook campus in suburban Illinois — an asset that hadn't seen a significant upgrade in close to half a century. The need for a new HQ, and a fresh perspective, was obvious.
"When we thought about the headquarters space even five to 10 years ago, there was really this notion that it was a cost to be managed. There's been a big move toward seeing it as an investment to be leveraged," Phillips said.
For McDonald's to keep up with a rapidly unfolding future, its next headquarters was going to have to "really drive culture forward."
Redesigning a New Direction
Eight months since moving into the new $250 million, 490,000 square foot headquarters in Chicago's West Loop, the building, appears to be achieving its intended aim.
"There's been a significant uptick in the speed at which new concepts go to market," Phillips explained. "An example would be our McDelivery program. Less than 24 months after work began, it's now a $3 billion business together with UberEATS. The office has been a major contributor in facilitating that," he said.
"One of the consistently positive things we hear is the amount of choice employees have."
Recognizing the need to adapt quicker to the needs of an evolving customer, McDonald's understood it would have to totally embrace new technologies and make innovation a core component of its revamped company culture. A new building, then, would have to encourage greater collaboration among departments. To this end, workers are issued laptops and smartphones, allowing them to leave their own "functional neighborhood setups" and work from a multitude of communal lounge, library, and cafe spaces, as well as outdoor terraces.
"One of the consistently positive things we hear is the amount of choice employees have within the office, aside from the remote work policy we have on top of that," Phillips said, explaining employees have the option of working outside the office at least one day a week.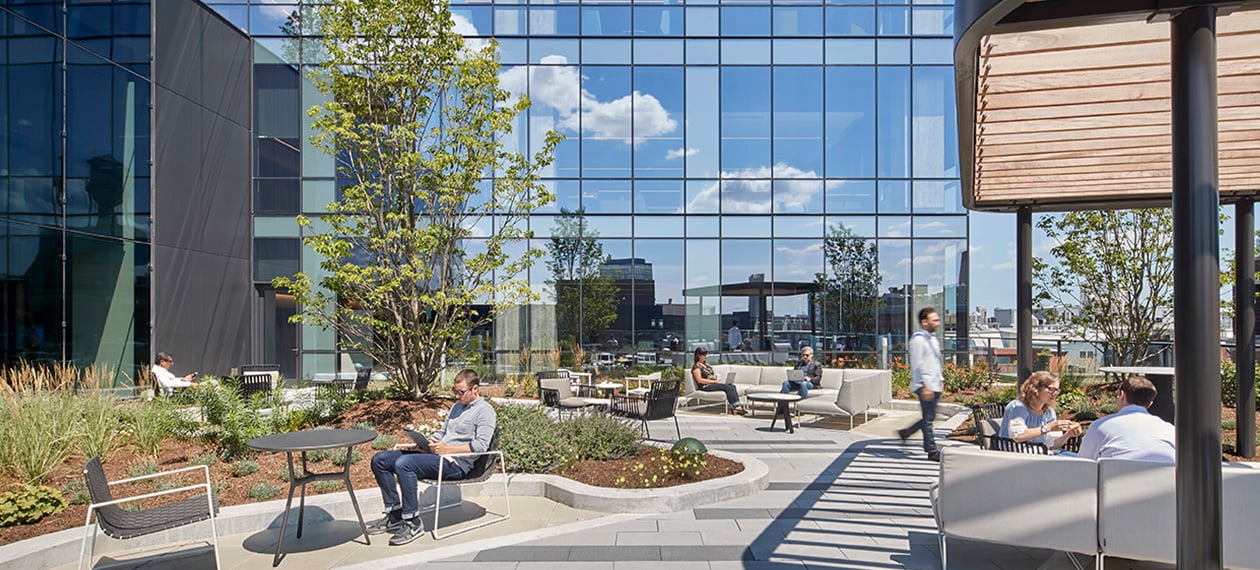 McDonald's HQ has 30,000 sq ft of outdoor terrace space
Smart building technologies help staff navigate the nine-story building, as well as access temperature control, room scheduling, and work order capabilities from their smartphones, enabling greater speed and agility. Meanwhile, weaving a sense of openness into the design was an imperative straight from the top.
"We were working with the CEO just 30 days prior to occupancy of the building, taking walls down to create even more openness, including senior leadership areas," Phillips said. "At the same time, we tried to strike a balance with privacy and the ability to focus when people need to."
"Simple, Feel Good Moments"
In line with the chain's mission to become its "customers' favorite place to eat and drink," there was a push for the headquarters to become as enjoyable a destination as possible for employees to spend time in.
"Internally, one of the things we like to talk about is 'simple, feel-good moments,'" Phillips said.
With this aim in mind, the sixth floor features a large cafe with stadium seating, while the top floor has a 10,000 square foot fitness center. There's also a lounge with a bar, complete with a happy hour every Thursday from 3:30 to 7 pm.
"It's about fostering connection between employees and these kinds of spaces have gone a long way to help us drive the cultural change we're trying to achieve."
As well as large, inviting spaces to mingle with coworkers, a McDonald's restaurant showcasing international takes on traditional menu items is available on the ground floor, which is open to the public. The facility also houses the company's test kitchens, as well as its Hamburger University, tasked with training as many as 3,000 store managers a year. Combined with smaller touches throughout the facility, employees are effectively immersed in the history, heritage and future vision of the 63-year-old company. One example of a creative centerpiece is a 50-foot wall showcasing 1,200 Happy Meal toys.
"It's one of those moments where you might be hurrying from meeting to meeting, but it's hard not to walk by and not smile a little bit," Phillips said.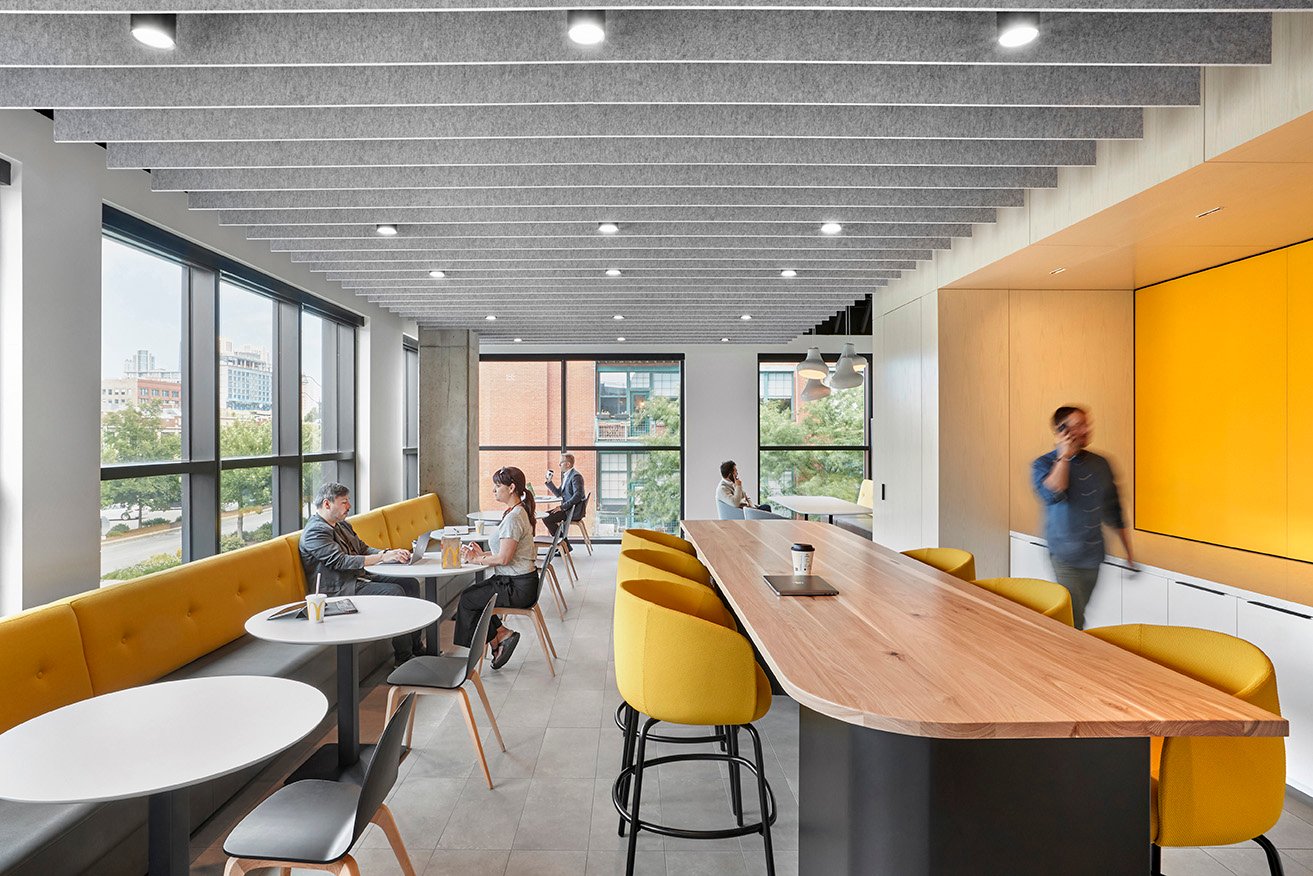 One of many varied meeting areas within McDonald's HQ
Preserving the Past, Building the Future
On the other side of the country, Microsoft is striking a balance between acknowledging its past and orchestrating a cultural transformation with the multi-billion dollar modernization of its iconic Redmond campus. While there's a current trend among tech companies to relocate to urbanized hubs, according to Keith Donovan, the project's Head of Development, the choice to stay where it is was an easy one to make.
"Investing here was about a commitment to the community. We've been here for 30 odd years. This is our home," he said. "I don't think there was ever a doubt that this was where the headquarters would be. We're going to grow and make this the best place that we can."
The 500-acre Redmond location holds a lot of history for Microsoft. It's where most of the company's products were developed, having relocated from New Mexico in 1986. While this rich background is vital to uphold, of even greater importance is how the new development reinforces the company's desire to shape the future. This means tearing down 12 of its oldest buildings, replacing them with 2.5 million square feet in new construction.
Overall, the development has a strong focus on creating highly collaborative workspaces and meeting areas, linked together via a two-acre plaza space. Cafes, retail, banks, and sports fields will occupy this central hub, allowing workers plenty of opportunities for entertainment and physical activity, all the while remaining connected to one another. Surrounding all of this, the new buildings and workspaces will form four distinct "villages" (a placeholder term the company is using during the project's planning and construction phases).
"We came from a culture where people used to go to their private offices and never really see themselves as part of a bigger team," Senior Workplace Strategist, Ruta Patil, explained. "We are in a very different time now. The way people work is fundamentally different and that changes how people connect with each other. How we think about the villages in terms of the scale of the buildings and the human aspect of it all will influence how people see themselves as a bigger whole."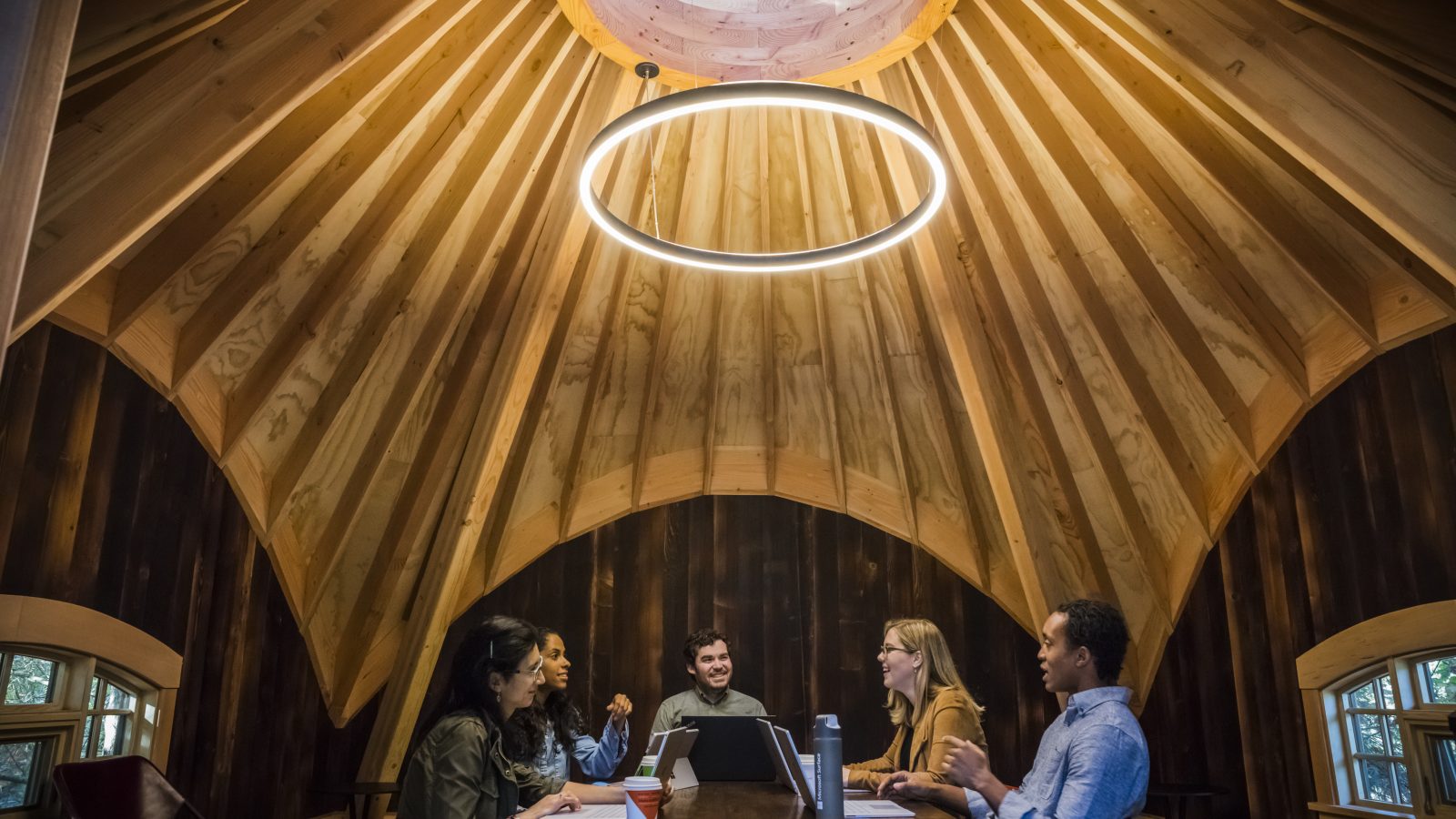 Inside a Microsoft treehouse meeting room
Alongside all the new construction, the cornerstone of the Redmond campus will always be the symbiotic relationship it shares with the Pacific Northwest environment it's nestled in. Preserving this was an important consideration for the design team.
"We spend so much time thinking about trails and we do these walking meetings because we understand the importance of this landscape and how people live their everyday lives here," Patil said.
To reinforce this mindset, workspaces have been built in and around the wooded surrounds. Employees are even able to get together in elegant, fairytale-like treehouse meeting rooms.
Letting Design Speak for What You Want to Achieve
A key area the development team has put a lot of effort into is an aspect of facilities design that usually fails to attract much attention.
"Our task as a real estate group is to ensure that all facilities are accessible to everybody"

"There's a huge push at the company to design products for all," Donovan said. "Allowing people of all different abilities to engage with technology, and in turn, achieve more. It's full circle for us and the question is how do we achieve that? Our task as a real estate group is to ensure that all facilities are accessible to everybody."
During this year's Superbowl, Microsoft aired an advertisement showcasing its adaptive controller, which makes gaming more accessible to those with limited mobility. For Microsoft, this isn't merely an afterthought, but a major component of its overall vision and mission to "empower every person and organization on the planet to achieve more."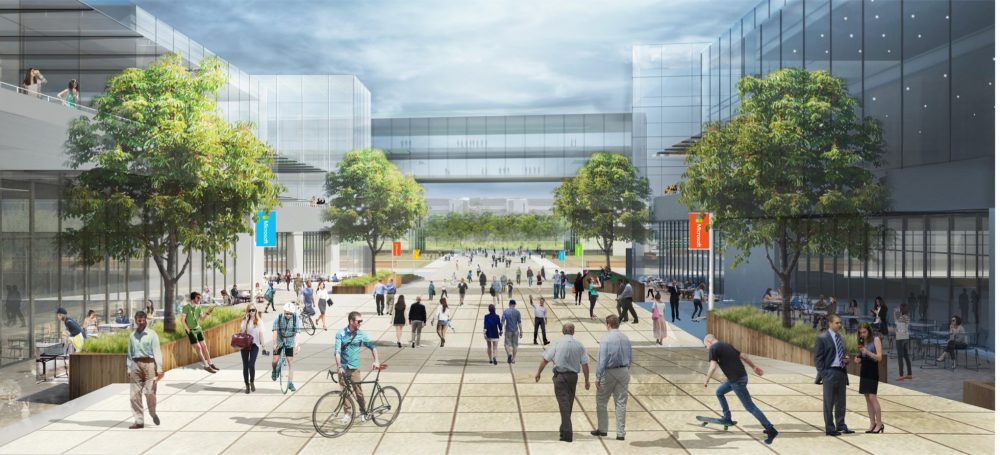 Artist's rendering of Redmond Campus plaza
Microsoft is going the extra mile in its Redmond redevelopment to focus not just on usual standards, but achieving "true equal access and parity of experience." Having proper lighting, high contrast signage, and walkway gradients are just a few examples Donovan said the company is going over with a fine-toothed comb.
"The idea that a building has a bunch of cool, unique stairs, but then has the elevators tucked behind the service board or in the back of the building… that's not accessible to us," he said.
While this may seem a negligible consideration in workplace design's ability to shift culture, it's exactly the kind of commitment required to affect company-wide change. Every inch of a brand needs to convey what it stands for, employees most of all. Molding the spaces they work in to live, breath, and exude the ideals a company is striving for will ultimately impact the reach and influence of its legacy.
---
Keith Donovan will be offering further insights into Microsoft's workplace strategy at WorkSpaces, happening October 27-29 in Palm Springs. See our developing lineup here, or reserve your spot now to help shape the future of work.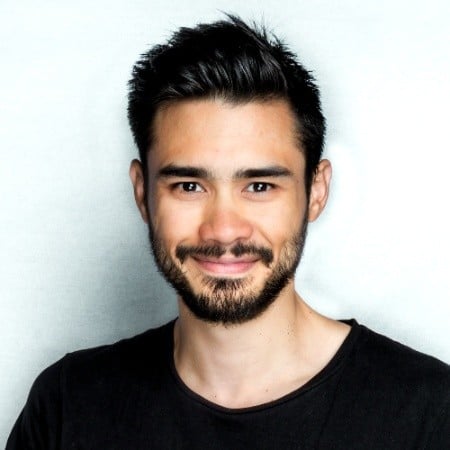 Posted by
Content + event producer with an innate, insatiable curiosity. Fixated on retail, restaurant, and hospitality design.
Join us at WorkSpaces!
The retreat for corporate real estate and workplace innovators.
October 23-25, 2022
Learn More