Nothing will elicit an exasperated sigh and exaggerated eye roll from a seasoned workplace strategist quicker than linking them to yet another clickbait article demonizing the open office.
While the tired debate continues to spark aggravation on social media from time to time, corporate real estate innovators are busy creating a new vision for the workplace of the future.
But if not closed private offices and cubicles or open plans, what will the workplace of the future look like?
For many companies, a solution to an incredibly polarizing issue has been found in activity-based working environments — spaces capable of catering to the myriad of activities that many varied and connected occupants need to undertake on any given day. In an age where the outdated, vertically-oriented corporate structure no longer meets the needs of fluid, tech-enhanced organizations, the theory underpinning activity-based working provides a way forward.
For Brett Hautop, LinkedIn's Senior Director of Design and Build, this evolution in space planning could ultimately lead to the workplace that's agile, adaptive, and aligned with the shapeshifting nature of modern work.
"What we tend to do as an industry is build something based on the conditions at the time and the people who'll be in that space. Then, five to seven years later, we just rip it all out and start over again," Hautop said. "We're trying to get to a flexible system that allows us to adapt and evolve every day, or every week or every month so that a space is just as relevant seven years after moving in."
Trial and Error for Tailored Solutions
Hautop's vision is definitely a desirable objective for workplace innovators. But it's not a solution likely to magically materialize without embracing an experimental mindset.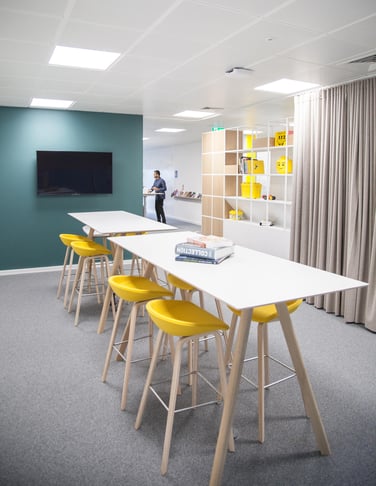 LEGO's London Hub expansion. Credits: Nicholas Gommon
Perhaps unsurprisingly, one company that's very open to rigorous trial and error in workplace design is one that has been encouraging creative experimentation among upcoming generations for close to a century.
"We are very clear about the fact that every project is unique in itself," Sudhir Saseedharan said. As the LEGO Group's Global Design Lead of the Workplace Experience Team, Sudhir is busy with remodels and new construction at different locations across the world, including the company's major campus development in Denmark, which will welcome its first employees next month.
"Every project is an experiment. We look at every single project and try to do something different and learn if it will work," he said. "We will never do a one-size-fits-all, ever, in any of our projects."
Such an approach is useful for companies with a far-reaching global footprint. Applying a granular focus to each location has helped Sudhir and his team undertake design experiments that wouldn't have made sense anywhere else.
"In Shanghai, for example, we created a meeting room which really shouldn't have had a chance at being successful. We called it Speed Champions — it has no chairs, just a table. It's a meeting room where you go to make quick decisions. We weren't sure it was going to work for us. But it did and it's used regularly."
Successful projects are then tweaked and implemented at other offices where they might be a good fit. Even if they're not, elements from an idea can be developed into entirely new concepts. Several projects globally, for instance, have inspired areas in the new campus where employees can go to simply play and stimulate creativity.
How Much Choice is Too Much Choice?
In order to strengthen a spirit of experimentation, companies like LinkedIn create entire laboratories, piloting new ways to complement the work styles of its 15,000 employees.
"We test everything we're going to do on our staff in our Workplace Design Lab in Sunnyvale (California) before we actually roll it out anywhere else — that's when the real risk-taking begins," Hautop said.
"We do stuff that's way out there because if we go way out, we end up finding a solution that's closer to what people want. We wouldn't learn those things if we never take huge leaps away from what we're comfortable with."
"We do stuff that's way out there because if we go way out, we end up finding a solution that's closer to what people want."
Hautop's current focus is pinpointing the right level of choice to provide employees. Recognizing that getting people out of their daily routines and habits can help boost creativity and productivity, LinkedIn has introduced various initiatives including private booths, shared spaces like libraries and cafes, as well as reconfigurable team neighborhoods. For example, at one of the company's newest locations — an engineering building containing 500 people — moveable furniture such as mobile monitors and whiteboards have been installed to encourage flexible work setups. However, Hautop has also found offering too many options can prove not only cost-intensive but also leads to undesirable results.
"Where is the line of choice and opportunity and what's too much?" he asked. "You don't want to overwhelm people with options when they just want it to be easy. Achieving convenience is also important — some routine things people can always come back to that they don't have to overthink."
Keeping the Workplace Relevant
In striking this balance, Hautop highlighted the importance of thorough evaluation.
Having utilized badge data "for a long time," Hautop confirmed LinkedIn is now looking into a larger array of data-collection methods including wifi triangulation and the latest in sensor technology to gauge the effectiveness of its projects. The company is also investing in capturing environmental information outside of its building management system to better enhance the employee experience.
"We're going to start collecting more data to try and see if there are patterns between things like the time of day, how many people are in a space, how much activity there is as well as temperature, CO2, light levels, and sound levels," he said. "What we're trying to get to in the next two years is developing our own workplace app that goes beyond doing basic things like merely booking a conference room. We want to provide real-time, haptic feedback to you."

Such an app might suggest the ideal conference room for a meeting based on what area of a building is quietest at a given time of day, as well as factoring in the personal preferences of the employees involved. A notification like this might come about simply as the result of the content of a calendar invite if that's a function an employee has opted-in for.
It's these kinds of tools, Hautop believes, which will help companies create the truly responsive workplace of the future — one that will remain relevant in an age when coming to the office isn't as necessary as it once was.
"Two years from now, how are we going to get people to come to the office?" he asked. "What is their motivation going to be when they have these amazing AR and VR capabilities that allow them to have a conversation like they're sitting next to each other without leaving home?"

LEGO's London Hub expansion. Credits: Nicholas Gommon
Instilling Identity... and a Playful Approach
At the LEGO Group, Sudhir has no doubt the workplace will always remain an integral part of life at the company, due in large part to its important role in constructing brand identity and a sense of belonging.
"What really binds the LEGO Group together is brand engagement," he said. "You don't get that being at home. While we are trying to collaborate digitally as much as we can, what cannot change at all is that one-to-one human interaction. In the building you get to know the pulse of the company. You know why you are here, you know that you're here to bring joy to the child's face. That comes across really strongly in the LEGO campus."
"Sometimes we fall flat on our face, and sometimes we don't. I wouldn't say we have a very polished approach. It's a very playful one."
Keeping this sense of authenticity alive in a workplace depends on a culture of constant evolution, adapting to the needs of a workforce in flux. What the LEGO Group and other companies like it offer is proof a cookie cutter mentality no longer has a place in modern approaches to space planning. Finding the right mix of different work environments specifically tailored to a given staff is crucial to the success of a company's activity-based working strategy. Merely benchmarking off what other organizations are doing and mirroring in-vogue design aesthetics will only erode authenticity and ultimately, employee engagement.
"It is not about what another company might be doing," Sudhir said. "It's more about finding and implementing what our talent needs."
Also integral to the LEGO Group's approach, Sudhir admits, is the company's heavy emphasis on remembering the values of play.
"It's about creating areas of play, but it's more about instilling a mindset of trying new things. The mindset that provides a safety net for employees to try something different and take calculated risks."
Unsurprisingly, in order to get this right, companies — from workplace teams right up to the C-suite — might do well trying to embody the atmosphere of the environments they're attempting to create. Without a culture of intelligent risk-taking, activity-based working strategies will fail to deliver.
"Sometimes we fall flat on our face," Sudhir admits. "And sometimes we don't. I wouldn't say we have a very polished approach. It's a very playful one."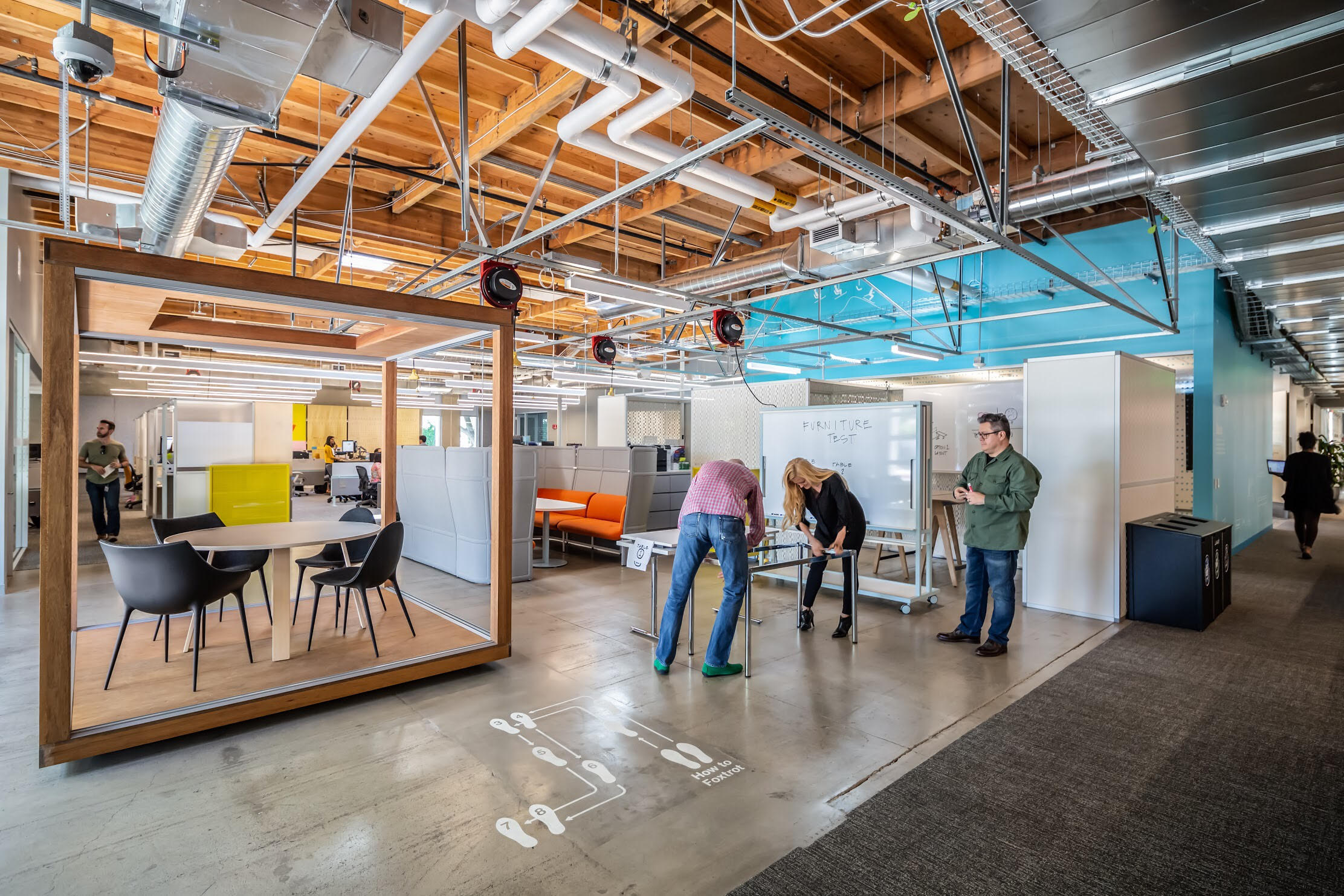 LinkedIn's Workplace Design Lab. Image credit: Emily Hagopian
---
Brett Hautop will be speaking about LinkedIn's approach to optimizing activity-based working environments at WorkSpaces, happening in Palm Springs this October (27-29). It's not too late to join us, request an invite here.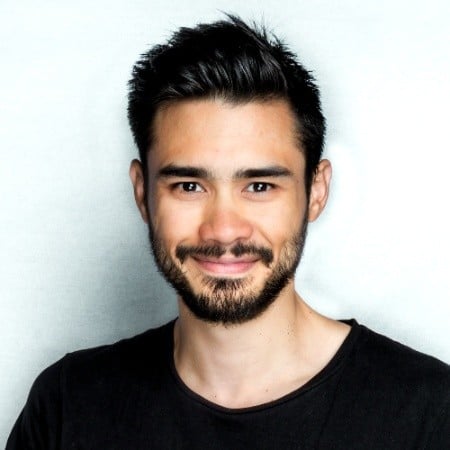 Posted by
Content + event producer with an innate, insatiable curiosity. Fixated on retail, restaurant, and hospitality design.
Join us at WorkSpaces!
The retreat for corporate real estate and workplace innovators.
October 23-25, 2022
Learn More