As the future of work takes shape, thousands of employees are slowly returning to offices that look less and less like the ones they left behind. That is, if they're returning at all.
At Genentech, the biotech firm with over 13,500 employees in the U.S. and nearly 5 million square feet of real estate at its headquarters in South San Francisco, C.A., all employees, regardless of their positions or locations, will have some flexibility in where, when and how they work. Flexible work options are tailored to the unique needs of employees and determined by functional and team agreements across the company. At Twilio, with 8,000 employees worldwide, plans to bring fully vaccinated workers back into the office must adapt to country-by-country restrictions on what the company can actually require. Zendesk, with 5,500 employees around the globe, expects its remote workforce to grow from 5% pre-pandemic to more than 30%.
At WorkSpaces, leaders at these three companies discussed their thinking around the shared challenges they face and how they're navigating ongoing uncertainty. The panelists included Sara Andersen, Head of Real Estate & Workplace Effectiveness at Genentech; Tamar Draper Mahru, VP, Global Real Estate & Workplace at Twilio; and Danielle Newton, Global Director, Workplace Experience at Zendesk.
Resisting the Old Normal
One looming challenge is the inertial pull back towards the pre-pandemic status quo. According to the panelists, resisting the urge means listening to employees, responding to their needs, and accepting the unknown. "I think that giving the employees input on the front end is really, really important," said Newton. "And then just continuing to engage with your employee base, continuing to pull in feedback. Because I think one of the big things that's happening here is we don't really know what's going to happen."
Draper Mahru agreed, noting that Twilio is in the process of onboarding five acquired companies: not only does it have to integrate all those new employees into its existing culture, it has to develop a new paradigm that accommodates an evolving workforce in an evolving world. She expects that the process will be one of adaptation and iteration, with employee engagement and safety as Twilio's north stars.
Onboarding Employees in a Remote World
While all three companies have adapted to onboarding employees remotely, they agreed that onboarding recent college grads—who often require more hands-on training—is tougher in a virtual world. Still, they resisted the idea that mentorship can only happen in person. "Is it necessary in a digital era, in a hybrid era, to say that in-person is the only way that you could be successful? I don't think that that's the case," Draper Mahru said. "That's failed thinking."
One of Genentech's solutions is to ask younger employees what their long-term interests are, then connect them with relevant company leaders for meetings that can blossom into mentorships. Another is to have younger employees shadow more senior employees, which can be done virtually. "You have to be intentional," Andersen said. "Intentionality is really going to help us."
Helping Each Other Back Up
These points tied into a discussion about the pandemic's psychological effects on the workforce. How can leaders inspire exhausted, burnt-out employees to keep pressing forward? "We really, really, really have to lead with empathy," Newton said. "We have to be engaging in conversation, in a new way and at a new level, in order to help people feel heard."
"Acknowledging that your people are burnt-out is super important because it means that you're listening," Draper Mahru added, stressing the need to provide mental health support programs to employees at all levels of the company. "We just have to be as kind as we can to ourselves and to each other," Andersen agreed. "When you stumble, I will help you back up. And when I stumble, you'll help me back up."
New Spaces, New Needs
As the panelists look toward the next few years, one word dominates their plans: space. Asked what new roles might emerge in their companies because of the pandemic, Andersen and Newton both foresaw a need for people focused on evolving space usage. "How are we engaging the whole workforce? How are we engaging people when they're not physically in the office?" Newton asked, predicting that location strategy will become an increasingly paramount concern. "We've got 25 people in this city and 50 people in that city—how are we making our decisions around real estate? What does it look like to say, 'Okay, now we need to lease a space in X, Y, Z city?' How are those guidelines or parameters being written?"
Then there's the ongoing, iterative process of adapting the workplace to a hybrid workforce. At Genentech, Andersen expects there will still be a mix of in-office spaces—both collaborative and heads-down—while remote workers can leverage a vast network of co-working spaces for short-term uses. Twilio, meanwhile, has embraced "dynamic spaces," where teams can adapt reconfigurable furniture to their particular needs.
Making the Office a Destination
The challenge isn't just adapting the office to evolving needs, but making the office desirable for employees. "They have seen over the past two years that they can get their work done without coming to the office," Draper Mahru said. "So there's gotta be an overwhelming reason as to why they should want to come back."
Andersen agreed, suggesting that the office should offer both the conveniences of home—easy access to childcare, food, personal services—as well as amenities that aren't available at home, like social venues to gather with your colleagues. Still, she stressed, "it's not the office versus home." When employees do come to the office, it should be because it's the only place that suits their objectives on a given day. "What are you not getting working from home?'' she asked. "What are you not getting when you're going to that co-working location? What are you getting when you come to campus? The need is going to be different for different people. For some people, it's going to be the people; for others, it's going to be the space."
Measuring Success in a New Era
When it comes to effective performance metrics for the hybrid era, the jury's still out. Genentech has experimented with sensor technology to measure space usage, but Andersen noted that sensors alone—which you have to teach the distinction between people and objects—only tell you so much. Looking forward, her team is planning to integrate anonymous badge data and WiFi tracking, which will offer insights into how people move through the campus and take advantage of its growing range of environments.
Until then, she's interested in measuring impact against business outcomes, which means she's dedicated to ensuring her employees have the support they need to achieve those outcomes—no matter where they are. "We are going to lead with the work and we are going to take care of our people," she said. "The meaningful work, that's what holds you there."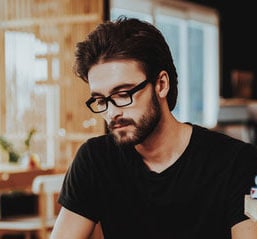 Posted by
Steve Manning is a journalist based in Idaho. When he's not writing, he can usually be found at the theater or taking his dog on a hike. If he could only go to one restaurant for the rest of his life, it would be Al's Place in San Francisco.
Join us at WorkSpaces!
The retreat for corporate real estate and workplace innovators.
November 5-7, 2023
Learn More