A majority of corporate real estate leaders who tuned in live for Office Hours by WorkSpaces – about 76 percent – plan to implement a hybrid structure when offices fully reopen.
With employees splitting time between their workplace and their home office, a hybrid model could help bridge the gap when it comes to the need for interaction and collaborative work, and the desire to reduce exposure during the ongoing COVID-19 pandemic.
But creating a new business structure brings about a number of questions: Do you need tens of thousands of square feet of space in your real estate portfolio? How do you ensure employees have a desk at the office, and how do you make them feel safe in that environment?
Those were just a few of the timely topics up for exploration among Adrienne Rowe, then Global Director of Workplace Strategy at Merck; Andrew Lee, Senior Manager of Real Estate and Workplace Technology at VMware; and Remington Woo, Head of Customer Success for Envoy, on.
Reevaluating Real Estate
Like many businesses during the pandemic, Merck has spent time reevaluating its real estate portfolio, continuing a process it has had in place for the better part of 10 years.
"We've been opportunistically rebalancing our portfolio and right-sizing spaces as opportunities come up," Rowe said. "These things create a bigger opportunity for us to take a look at existing spaces and figure out what does that need to look like moving forward."



Many companies have enlisted the help of technology such as Envoy to determine their needs and analyze their space utilization. Woo said that over time, Envoy has been able to build out its analytic capabilities, allowing customers to make better-informed decisions on real estate.
Of course, these reevaluations might not lead to immediate action, as Rowe pointed out that even a pandemic can't move up the lease-break date for many businesses.
"But as we come up on new decisions we are taking a critical look at exactly what that space needs to deliver to us and how much space we need."
When it comes to the possibility of using satellite locations, Rowe said there is a lot on the table.
"There is more to be gained from real estate when you have a center of gravity than when you have a lot of little locations," Rowe said. "Satellite locations can help with travel, but if you can work from home, do you need that?"
Rowe said her team will continue to rely on data to determine the best path forward with respect to real estate and the use of current workspace.
Focus on Flexibility
While there are still many unknowns when it comes to the future size of a company's real estate portfolio, Rowe shared insights on how space could be transformed for future work needs.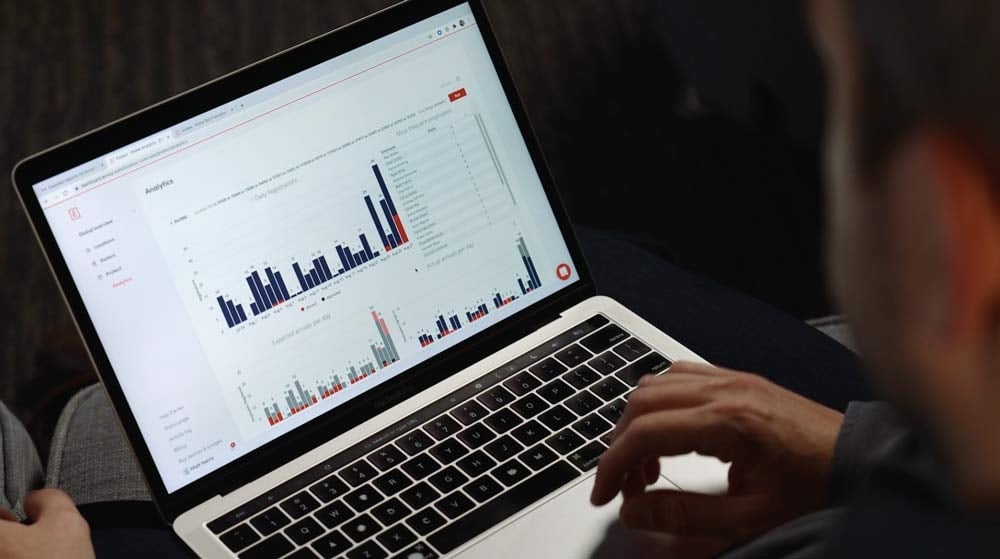 "We are leveraging a flexible network office strategy moving forward," she said. "It provides us with the ability to stand up a space quickly and have flexibility to adapt as our needs change."
Again, understanding those needs will involve examining data related to how employees are using the workspace.
For instance, Woo noted that knowing how many employees are visiting one space and how they are using it could allow businesses to determine if couches, stand-up desks, or pods are needed.
"These things can save you costs, but more importantly improve the employee experience so they like coming into the space," Woo said.
Finding a Seat
Providing employees with a simple way to access a workspace will also be important, even if it's only for a day or two a week.
Unlike in the past when each employee may have had their own personal desk, now they may be sharing space. In fact, hot-desking was the most common response when attendees of Office Hours were polled about what office technology they plan to invest in first.
By using a seat reservation system, VMware aims to provide a smooth experience for employees who choose to come to the office. Such a system, Lee said, must be easy to use and offer flexibility when it comes to office layouts.
Another challenge of hot desking is estimating the number of people who would utilize the system at one time.
"We're looking at ratios," he said. "For someone who wants to come in on any given day, you don't want to not have a desk available because that floor is too crowded."
Other considerations, like where employees want to sit when they come into the office, also need to be taken into account when devising a digital interface where staff can book a desk. Being able to figure out where the rest of their team will be on a given day, as well as the facilities they'll need, for example, is something that needs to be built into such software.
Creating the All-Encompassing Employee Interface
Technology, such as Envoy's suite of offerings, has allowed many companies to begin the process of bringing employees back to the office.
"Some people still need to come in," Woo said. "We helped build that intermediate COVID response and helped screen employees both for health and for occupancy limits based on county and state guidelines."
Lee noted that VMware has used Envoy when it comes to monitoring visitor access to buildings.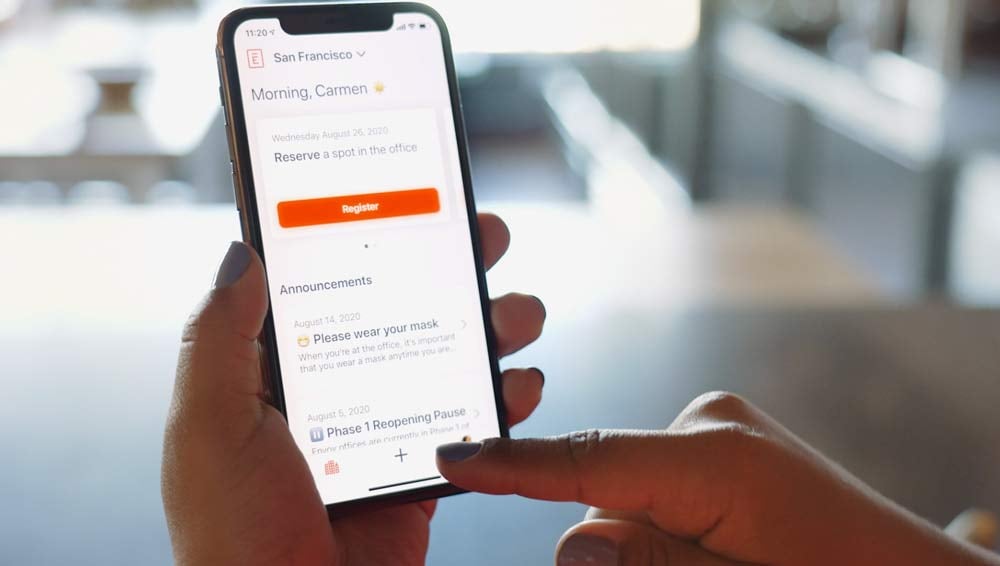 Through Envoy, the visitor would agree to the company's health and well-being guidelines. The system could also send analytics to the company so they can monitor which offices are busiest and may need additional cleaning and maintenance.
Additionally, Woo said Envoy is looking to incorporate other capabilities on its platform so that employers can provide hybrid employees with perks or amenities they may have experienced in an office setting. Partnering with third-party companies, for instance, would allow workers to order food, or carry out other non-work-related tasks via the one digital interface. When it comes to devising a way of streamlining and enhancing the employee-experience, Woo said, the opportunities are only limited by companies' imaginations.
"What is something people have the most trouble with right now? Childcare," he said. "We're thinking of the benefits we can offer – how we can keep pushing boundaries to make hybrid and remote perks and benefits amazing."
Prioritizing Health
Rowe, Lee, and Woo noted that the health and safety of employees has been a top priority when exploring real estate and hybrid work structures.
"When you had a fixed desk, it was your responsibility to clean that desk, but if you didn't, it didn't matter because no one else used that desk," Lee said.
Lee imagines that the seat reservation system would be able to send information to the company's maintenance or janitorial team on which desks need to be cleaned and sanitized after use.
As more individuals begin receiving the COVID-19 vaccine, there's been a question of whether employers will seek proof of vaccination from employees in order to access the workplace.
While a majority of Office Hours attendees said they had no idea if their companies would ask if employees had received the vaccine, Woo noted that Envoy could capture that information. It's an issue that the company's client base is becoming increasingly interested in, in preparation for the reality that collection of this kind of data will become common practice.
If so, it would be possible for employers to create a field in its visitor management system to collect data on vaccines; however, they wouldn't necessarily have to retain that information, Woo said.
"Historically, employers don't have access to employee medical records," he said. "When you get into vaccines, that's a very company-to-company decision. That's something each company needs to evaluate."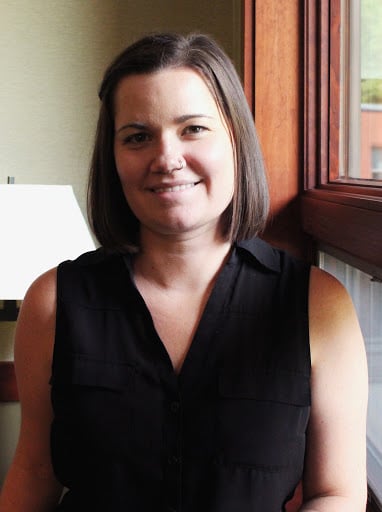 Posted by
Ashlee Kieler is an experienced multimedia journalist based in Iowa. She is passionate about telling stories about healthcare, education, retail and a smorgasbord of other topics.
Join us at WorkSpaces!
The retreat for corporate real estate and workplace innovators.
October 23-25, 2022
Learn More