The pandemic-era shift to flexible work models was the product of a herculean effort by forward-thinking companies around the globe. Unfortunately, it may also have been the easy part.
Data from Future Forum's Pulse Report in the fall shows that employees and executives alike are struggling to adapt: 43% of desk workers say they're burnt out, with 57% planning to look for a new job in the next year. In the C-suite, executives report a 20% decrease in work-life balance and a 40% increase in stress and anxiety. For all its benefits, the new normal is creating its own problems, too.
Taking these insights into consideration — combined with ongoing return-to-office friction and looming economic uncertainty — 2023 could prove a pivotal point in the long-term, widespread adoption of flexible work.
For Future Forum VP Sheela Subramanian, the answer is not to abandon flexible work: it's to continue figuring out an approach that works for everyone.
"People don't necessarily want to sacrifice their health, their time with their family and friends, their contributions to their community, in order to play the corporate game," she said in a session at WorkSpaces '22 in Palm Springs. "What we recommend moving forward is that leaders actually revert from returning – which we're seeing in increasing numbers – to redesigning work to become more flexible, inclusive, and connected."
Subramanian believes that a more flexible future of work is not only possible, it's already here. During her presentation, she explained what companies need to do to embrace it and why it's worth embracing.
Embracing Real Flexibility
At the height of the pandemic, Slack created Future Forum with the aim of helping companies adapt to an increasingly digital-first world. For two and a half years, the consortium has gathered data on how organizations are navigating this shift.
According to Future Forum's research, the most important determinant of employee satisfaction – drumroll, please – is compensation. The second? Flexibility. And while conversations around flexibility over the last couple of years have focused on where work is done, true flexibility goes way beyond that.
"A whopping 94% of desk workers globally want flexibility in when they work," Subramanian said, adding that two-thirds want flexibility within a structured framework. That framework might look something like a non-linear workday, a term coined by DropBox to describe a system in which employees have some synchronous hours but otherwise work during the hours that suit them best.
"One way to achieve a non-linear workday is to establish core team work hours," she explained. "What core teamwork hours do is they assign chunks of time where team members are expected to work synchronously for one-on-ones team meetings, round tables, whatever that might be. But outside of those teamwork hours, people are empowered to do work when it works best for them."
For her own team, those core teamwork hours are between 9 A.M. and 1 P.M., Monday through Friday, to accommodate different time zones. "What we have found is that people are able to do their work more productively as well as live richer, fuller lives," she said.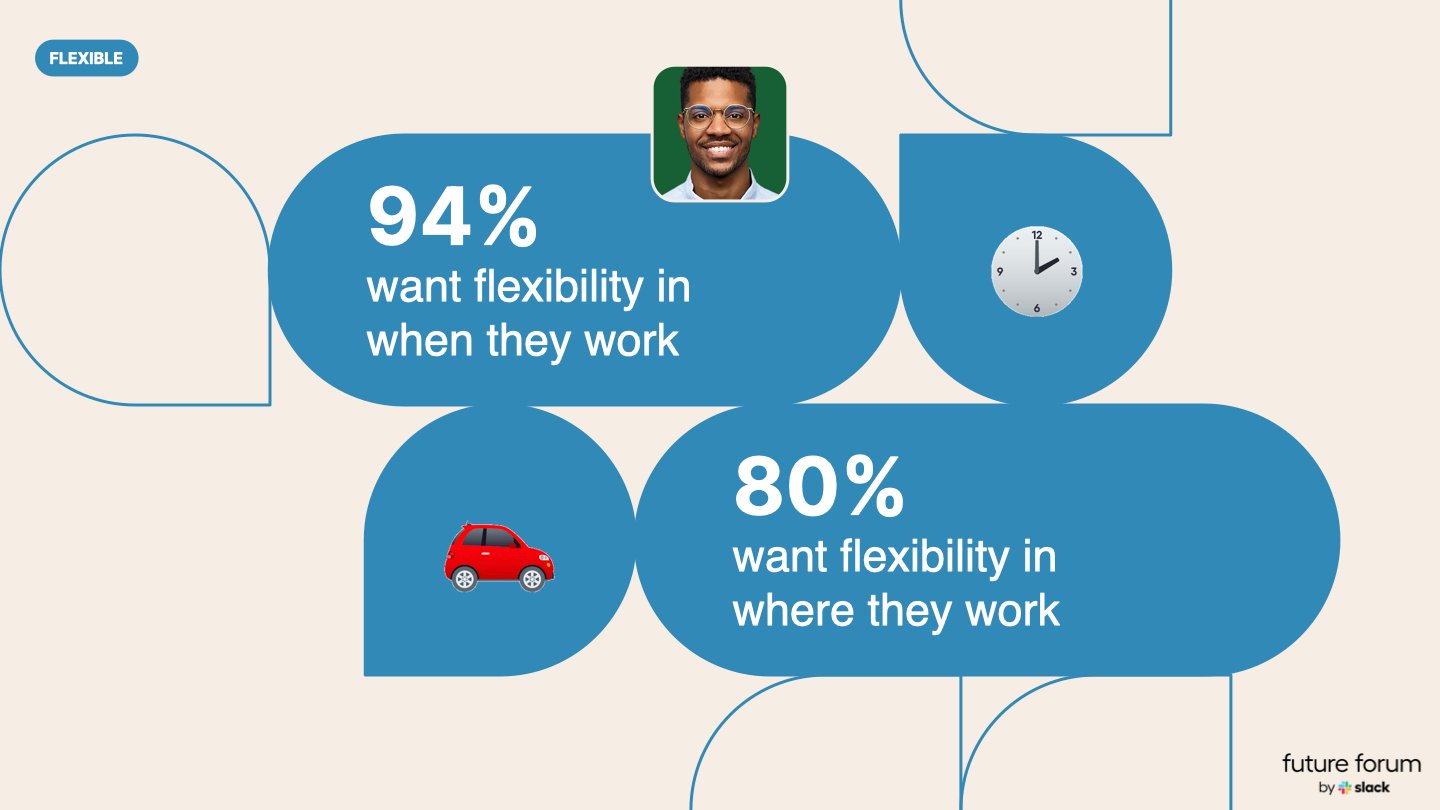 A successful flexible approach is one designed with intention, which is why Slack CEO Stewart Butterfield declared "calendar bankruptcy" early in the pandemic and deleted every recurring meeting on his calendar, deeming most of them unnecessary. Subramanian recommends that other leaders follow his example, adopting the "4D framework" to determine whether to keep meetings.
"If the meeting is to debate, discuss, decide something specific or develop your employee, keep the meeting," she said. "If it's a standup or a status check, bring it into your digital channels and do it asynchronously."
Empowering Team-Level Agreements
By adopting the 4D approach, executives will model flexible workplace practices for middle managers and transform their organizations from the top down.
"Leaders need to set the tone from the top," Subramanian said. "From there, they get out of the way and they empower their managers to set team-level agreements."
The team-level agreement will be an essential part of fostering greater autonomy across an organization — crucial to reaping the benefits that flexible work can offer. Encouraging the practice at every level of an organization, Subramanian said, will be crucial.
"We've seen team-level agreements work for teams of 100, 200, and even groups of four. Mainly because they require conversations around how we want our work to get done. What is our culture in terms of how we work. What's working? And what's not?" she said. "Team-level agreements are the shell or the vessel for actually being intentional."
Reducing Burnout and Retaining Talent
Building a culture of trust on a foundation of initiatives like team-level agreements will go a long way toward breaking down outdated management approaches that simply weren't working.
Future Forum's research shows that almost half of employees effectively feel like they have two jobs: not only to do their work, but to perform that they're working for their managers and coworkers.
"Think about that," Subramanian said. "You do your day-to-day job and then you have to have that extra layer of presenteeism or live-action role-playing around all the work that you're doing all the time."
The result of this extra layer of work? High levels of burnout that affects everyone in the organization, especially women, employees of color, and working parents who vastly prefer flexible schedules. It also affects middle managers – almost half of whom report feeling burnt out, according to Future Forum's latest research.
"There's a big problem that's happening here, because stressed out managers then trickle down that stress to their teams," she said. "Now, this is not my way of saying 'Bring all your middle managers back into the office full-time.' Yes, they can come back into the office, but not full-time. Rather, this is an opportunity for us to coach and invest in feedback for our middle managers."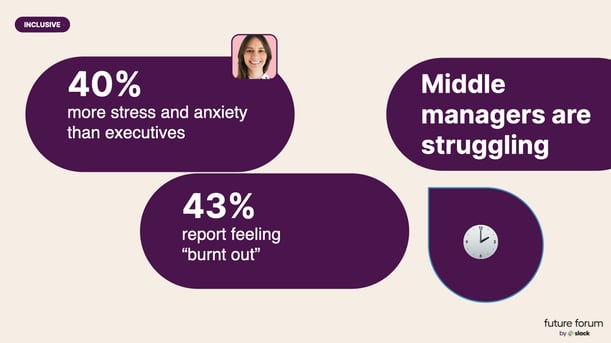 Flexibility can also provide a vital upper hand when it comes to recruiting and retaining talent.
While the combination of now-familiar market stresses and a potential recession may seem to give employers more power to dictate in-office work on their own terms, Subramanian argued that the winners will be those who embrace change.
"Top talent is your competitive advantage," she said. "Listening to what your talent wants and needs is going to be critical for weathering the shift. Hiring people, onboarding them, it's all very expensive. I think this is the time for leaders to actually focus on retaining talent… It's time for us to start treating our employees like adults, like humans."
Investing in Transparency and Empathy
Achieving this shift will require intentionality. With training, middle managers can become empathetic coaches who listen to their employees' needs and try in good faith to meet them.
"Leaders need to be skilled and coached to focus on the outcomes: the results that people are creating within their organization, rather than those who are always online or the first in and the last to leave," she said.
The flexible workplace is also a less opaque workplace. According to Future Forum's data, 60% of executives aren't asking employees what they want from the future of work. Subramanian argued that this has to change, especially if executives wish to empower middle managers.
"In rewriting their job description, leaders also need to realize that transparency and trust are a big expectation among employees moving forward," she said. "It doesn't mean putting all the information on the table and letting everybody know everything. It's much more about getting feedback from your employees, as well as being a little bit more vulnerable and candid in terms of what you're experiencing."
That may be a significant paradigm change for some executives. Thankfully, there are plenty of tools to make it easier. "It's critical for leaders to continue to invest in digital tools to foster the connection, to build that trust and transparency," Subramanian said. For some, that might mean digital Ask Me Anything-style town halls; for others, it may mean asynchronous all-hands meetings.
"There's so much opportunity for us to redesign how we work rather than return back to how things used to be," she said. "As we enter this era of economic uncertainty, I believe that those who are going to lean into the change are going to have more productive as well as happier employees, as well as win in the long term."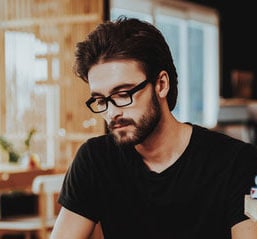 Posted by
Steve Manning is a journalist based in Idaho. When he's not writing, he can usually be found at the theater or taking his dog on a hike. If he could only go to one restaurant for the rest of his life, it would be Al's Place in San Francisco.
Join us at WorkSpaces!
The retreat for corporate real estate and workplace innovators.
November 5-7, 2023
Learn More